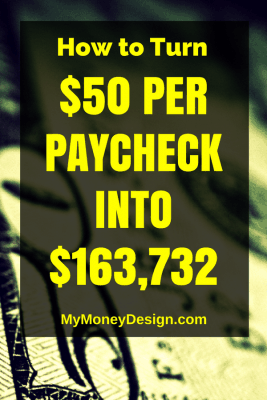 Do you wish you could be saving more money for retirement than you are right now?
It's easy to read a couple of personal finance blogs and feel like you're being left behind if you're not budgeting yourself down to the bare-bones or saving up an obscene amount of money.
But don't get discouraged!  It might benefit you to know that even small changes to your saving habits can still help aide in your retirement planning success.
How small of a sacrifice are we talking?
My challenge to you: Start by spending $50 less per paycheck and redirecting that savings back into your tax-deferred retirement account.  Yes … even an amount that minimal can still make quite a bit of difference between now and the day you plan to retire.
How big of difference, you ask?
In this post, I'm going to show you how to turn $50 dollars per paycheck into $163,732 more on top of your retirement nest egg.  While that's not anything you'll be able to fully retire on, it's still a 177% increase above the 2016 median 401(k) balance of $92,500 – and it will be just for making this one small adjustment.
And the best part: By the time I show you how all of this fits together, you'll be able to scale this technique upward to reach any nest egg savings amount you'd like to achieve!
How to Turn $50 Dollars Into a Whole Lot More!
So how does cutting out $50 dollars every two weeks from your regular budget eventually turn itself into six-figures of retirement savings?
The answer lies in a three part process:
Getting more by not paying taxes
Investing for growth
Giving it time
Let's go through each part of this strategy to understand the process a little more clearly.
1- Getting more by not paying taxes
As it turns out, reducing your spending by $50 every two weeks isn't just $50 saved.  It's more!
Let me explain: Remember that when you save your money using a tax-deferred retirement plan like a 401(k) or IRA, you're not just saving your money at face value.  You're actually saving a lot more because you're also saving the portion that you would have normally paid in taxes.  That's because tax-deferred retirement plans let you save your money before the taxes are taken out instead of after.
For example: Let's suppose you're at the 25% tax bracket.  By the time you receive $50 net in your paycheck, it was really $50 / (1 – 0.25) = $67 gross (before taxes).
In other words, by giving up $50 from your paycheck and opting to save it instead, you're actually $50 plus the $17 you would have paid in taxes.
Assuming you're paid every two weeks like most people, then this works out to $67 x 26 = $1,733 of savings annually (a lot more than $50 x 26 = $1,300).
2- Investing for Growth
Anytime you're investing for the long haul and would like to keep it simple, I always recommend to simply pick a passive index stock fund.
Index fund investing has been praised as having many advantages over traditional investing.  Investing in one of these types of funds is one the easiest ways you can capture the average market return, which is approximately 10% on average per year according to data maintained by NYU.
You can usually find stock market index funds available in almost every retirement plan.  But if yours doesn't have one (or one that is very cheap), you can always open an IRA with Vanguard and invest directly in their most popular index fund: VFINX.
3- Giving It Time
If you can keep saving and investing at this same rate every year for the next 30 years, and we assume it grows at an inflation adjusted average of 7% on average (10% growth – 3% inflation), your savings will have the potential to eventually compound into $163,732.
While we won't cover every possible scenario, even periods as short as 10 or 20 years can make a ton of difference.  However, when it comes to harnessing the power of compounding returns, the more time you can give your investments to grow, the better!
$50 Dollars Turns Into $6,549 of Passive Income for Life
While adding an extra $163,732 to your retirement savings is great an all, the real power behind this strategy is that this additional amount of savings has the power to generate $6,549 of passive income for basically the rest of your life!
We can make this conclusion thanks to the 4 Percent Rule.  According to it, you should be able to safely withdraw an inflation adjusted amount equal to 4 percent of your initial starting value for at least the next 30 years.
$163,732 x 0.04 = $6,549 per year.
It's worth mentioning that some studies such as those provided by Michael Kitces show that there is a very high probability that this money will actually last you quite a bit longer.  In his article "How Has The 4% Rule Held Up Since The Tech Bubble And The 2008 Financial Crisis?" He found that by the time the 30 year period ended, "less than 10% of the time does the retiree ever finish with less than the starting principal".
So now $50 saved is no longer just $50 that could have spent now.  $50 each paycheck (or $1,733 annually gross) becomes your ticket to receiving $6,549 of passive income per year for the rest of your life!  That's literally 5X times more that you can spend in the future just for delaying it now.
Scale To Your Desired Level of Success
Again: Although $163,732 is nice, it's not going to be nearly enough to retire.
So why did I pick $50 as the amount per paycheck to use for this challenge?
The truth – because it was a small, obtainable amount that I feel most people could easily find a way to cut out of their spending.
But nothing says that you have to stop there.
In reality, you could use this same strategy with any amount you wish: $100, $150, $200, etc.  It really doesn't matter.  As you can see: Every dollar more that you save annually works out to 5X more in passive income that you will receive later.
In fact, if you're feeling really ambitious and would like to go all the way up to the IRS maximum limit for 401(k) contributions ($18,000 as of 2017), that would equate to $519 net per paycheck.
If you'd like some suggestions for how you can cut out $50 (or a whole lot more) from your bi-weekly spending, then head on over to our other site 1000WaysToSave.com to pick up a ton of other great tips!
Readers – Who's up for the challenge of turning $50 into six-figures?  What are some other small changes you can make to your spending habits to achieve bigger successes later on in life?
Featured image courtesy of Flickr