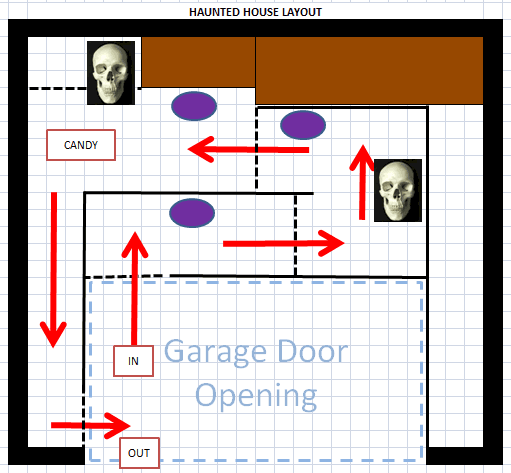 I can't wait until Halloween! Last year I raised the bar pretty high. I got the bright idea to go from simply passing out candy to turning my garage into a miniature haunted house. Pretty cool, right? That's the blueprint on the left. Basically I hang up large black vinyl drop cloths to create a short dark maze, add a lot of flashing lights (purple circles) and smoke from a fog machine, play some scary music in the background, and then add in as many props as I can. Oh yeah, and my Dad occasionally jumps out at you from around the corner (skulls).
The haunted house was a big hit last year from small children to adults, so I've made several improvements and we're going full steam ahead again this year. Unfortunately, as much as I'd love to share pictures, all the ones I took of the night turned out terrible because it was either too light outside (and it would just look like a bunch of garbage bags draped in my garage) and not scary, or too dark at night and you couldn't see anything.  We'll have to see if I can do better on Wednesday!
Blog News:
A big thanks to Michelle over at Making Sense of Cents for publishing my guest post Why Does It Always Rain When I Travel? No, I promise it wasn't just a rambling where I complain about the weather. I was actually using the situation of turbulent travel conditions as a metaphor for overcoming the challenges in your life as opposed to playing the victim.
This week my main posts will have a Halloween theme to them. Hopefully that's not too cheesy.   I hope you enjoy them!
Link Love – Blogs You Should Check Out:
In case you missed them, here are a few great stories you should check out this weekend:
Veronica from Pelican on Money writes an incredibly honest post entitled

I Am a Monster

.  No you're not Veronica.
Justin from The Family Finances re-evaluates his blogging goals in

Getting Back On Track

.  We've all been there – keep up the good work man!
Elizabeth from Broke Professionals celebrates advancing her career I'm A Bonafied Professional: Finding Financial Independence.  Good job Elizabeth!
There was a terrific guest post from Todd Mayfield on Work Save Live entitled

Boys Becoming Men: It Doesn't Happen On Accident

.  Outstanding perspective!
Carnivals:
MyMoneyDesign was featured in the following personal finance carnivals this week:
Yakezie Carnival

Financial Carnival for Young Adults – 35th Edition
Thanks again to all my new and returning visitors. I really appreciate your support and hope you continue to enjoy my site!
Posts This Week:
1) Confessions and Resume Screening Tips from Someone Who Interviews
2) Using a Flexible Spending Account to Get Another Tax Break in Your Paycheck
Image Credit: MMD