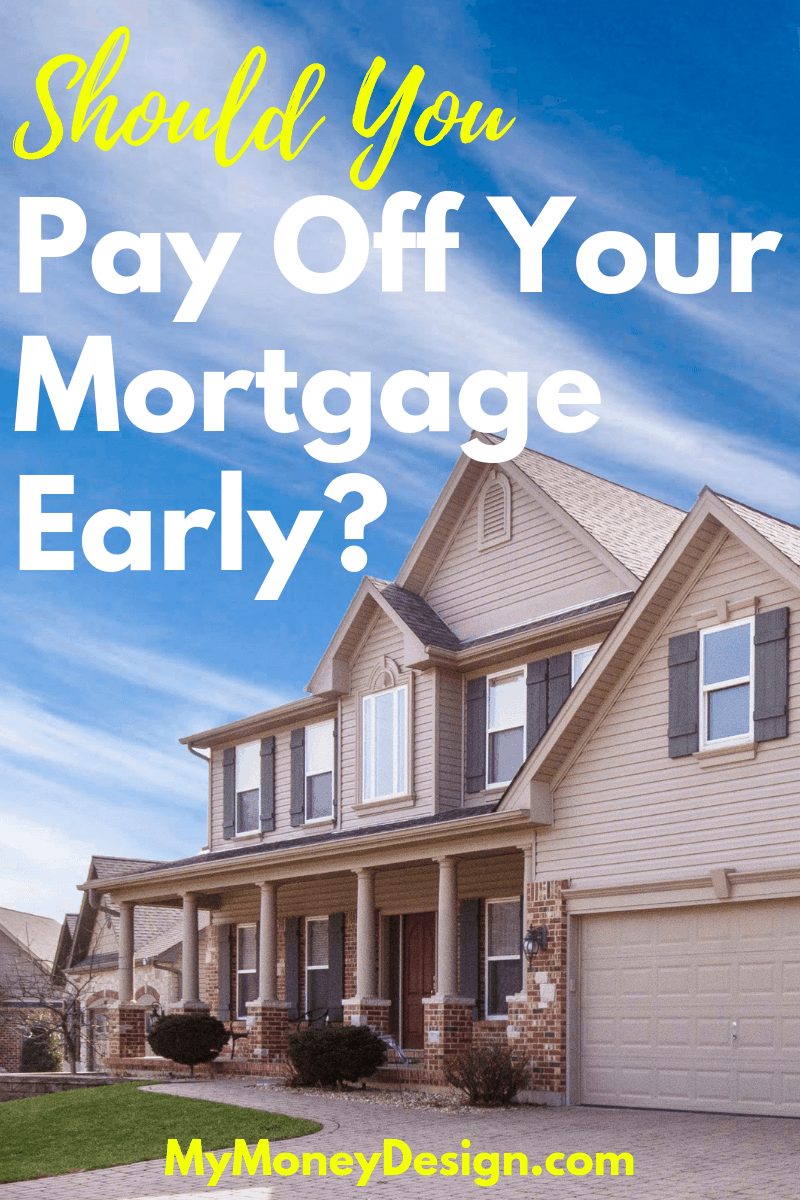 Which is really the better option – Should I pay off my mortgage early, or look for higher yielding ways to use my money responsibly (like investing it, paying down down debt, etc.)?
It's a financially responsible question I believe most people ask themselves at some point; especially when they find themselves with some extra cash that they'd like to put to good use. More than once after my wife and I have found ourselves with a new raise or bonus, we've questioned whether it would smart to use that extra cash to pay off some additional mortgage principal every month.
Why is that?  Because eliminating your monthly mortgage payment has classically been accepted as almost a sort of "pre-requirement" to achieving financial independence.  ABC's "Shark Tank" co-host and personal finance author Kevin O'Leary has been quoted as saying "If you want to find financial freedom, you need to retire all debt — and yes that includes your mortgage," according to CNBC.
And he's not alone in his advice.  Completely paying down your mortgage debt has been a sentiment shared by popular financial gurus, advisers, and those approaching retirement for decades.
Even those seeking early retirement have made paying off their mortgages a top priority.  Read the stories of dozens of early retirees across the Internet, and you'll quickly recognize that eliminating their mortgage debt was a huge component in reducing the amount of money they needed to accomplish their goal.
But then consider that we've all been in a very unique place in history in terms of interest rates.  Up until 2016, the U.S. Federal Reserve has held interest rates at nearly 0 for almost 6 years (in an attempt to try to stabilize the economy).  This means nearly anyone who got a new mortgage or refinanced within the past decade could be paying between 3 and 5 percent interest.
If you're one of these people who was able to lock into a rate so low, does it then make sense to pay off your mortgage early when there could be better opportunities for you to use or grow your money?
In this post, we'll look at both sides of the early mortgage payoff argument and weigh the pros and cons.  In the end, you can consider which points will help you the most, and what you think would be the best use of your money!
Why You Should Pay Your Mortgage Off Early
Some people get extremely passionate when it comes to idea of paying off your mortgage early.  And for several good reasons!
1. That feeling of finally being DEBT FREE!
When it comes to your finances, there is no better feeling than that of being "debt free".
Say it with me … "debt free" ….
Imagine waking up and saying to yourself: I don't owe anyone anything!  I could lose my job tomorrow, and it wouldn't matter.  I've done what was needed to protect the greatest asset that my family and I depend on.  The house and everything in it will still be mine – all because I paid it off!
This simple but powerful psychological reason is one that has driven many people to accelerate their house payments at incredible rates.  Just like a career or weight loss goal, they simply want to be able to say "This house is mine!  I own it and no one can take it away!"
Who can blame them?  Wouldn't it just feel great not to see that huge mortgage payment deducted from your checking account every month?
2. Saving yourself thousands of dollars in interest.
Now we get to the technical reason …
The definition of a mortgage is that it is a loan.  Loans carry interest.  When it comes to interest, there are only two sides:
Those who pay interest.
Those who receive interest.
Unfortunately, since none of us are lenders, we're all on the wrong side of that equation!  And the longer you carry your mortgage, the more interest you'll end up paying to the lender over time.  Who wants to do that?
Fortunately, mortgages are designed in a way that can exploited, and the way to do it is simple.  The sooner you payoff the principal, the less money in interest you'll pay over time!
The savings are not trivial!  For example, something as small as $100 extra dollars per month could end up saving you over $20,000 in interest payments over time!  And that's not to mention shaving almost 5 years off your payment schedule.
Want to see for yourself?  Try this free calculator from BankRate.  I highly encourage you to test it out and see just how much interest you end up paying on your house over the life of your mortgage. It can be extremely eye opening!
3. Building up equity
Unlike when you rent, every portion of your mortgage payment that goes towards the principal builds up "equity".  Technically, this is the amount of the asset (your house) that you officially own.
Why does that matter?  Because when you go to sell your house, you're entitled to this equity, which could mean tens or even hundreds of thousands of dollars! 
Let me tell you – when we sold our house, it was pretty nice getting a big fat check for over $30,000!  Depending on what your next move is in life after you sell your house, you could really use this money for a variety of reasons:
Next mortgage down payment
Payoff debt
Finance a portion of your retirement
Effectively, you could almost think of it like paying your future self!
4. Locking into a fixed return rate.
Not a lot of people realize it, but paying down long term debt is just about the same thing as investing it.
How so?  Let's take your mortgage, for example. When you pay down your mortgage early, it's the equivalent of investing that money and getting the same rate of return. If your mortgage APR is 5%, then for every dollar extra you put down on the principal, you're effectively saving 5% in interest.  (For an in-depth explanation of how that works, read my post Which is Better – Paying Off Your Mortgage or Investing the Money?)
Given our historically low interest rates over the past decade, and for some people this might be a more lucrative rate of return.  When was the last time you went to a bank and were offered a CD with a fixed rate of 5.0%?
Why not just invest in stocks for a higher rate of return?  Well … you could, and that's one of the points we'll discuss further in the next section.  But keep in mind: Paying off debt is like getting a "guaranteed" rate of return (the same as a bank savings account or CD).  Stocks are not guaranteed, and there is therefore more risk involved.
5. Reducing the amount of money you'll need later or during retirement.
There's a very good reason why so many financial guru's and enthusiasts tell you to get rid of your house payment before you consider retirement.  Eliminating your mortgage payment dramatically reduces how much money you'll need in order to retire.
For example, let's say you have a $1,000 mortgage payment and $4,000 in expenses. In the classic calculation, you'd need $5,000 x 12 months = $60,000 per year which equates to a retirement savings target of $1,500,000. But if your mortgage was completely paid off, then you'd only have to cover $4,000 in expenses.  This means you'd only need $48,000 per year, which works out to a target nest egg of $1,200,000 instead; a difference of $300,000 less!
(If you'd like to see how I calculated this or why these numbers work, please check out this post.)
6. Lower taxable retirement income.
Again, thinking ahead to retirement, if you're smart about how much taxes you'd like to pay when you're retired, then you'll want to make sure you pay off your mortgage before you enter into retirement.
The reason is this: When you retire, you'll want to withdraw as little money as possible from your nest egg and Social Security so that you pay little to no taxes.
Suppose for retirement you decide you'll need $30,000 per year pre-tax. Now let's say that $10,000 of that $30K are your mortgage payments. If your mortgage was paid off, wouldn't it be better to only need $20K instead of $30K. At $20,000, you'd actually owe no Federal taxes whereas at $30,000 you'd owe something.
Of course there are many ways to dance around paying taxes altogether during retirement, and this could be a complete non-issue. If you're interested in knowing more about this, check out my how to have a tax free retirement. We actually worked out a scenario where you could withdraw $132,500 from your nest egg without paying any taxes at all!
Why You Should Not Pay Off Your Mortgage Early
While each of the above reasons above were pretty good, the reasons NOT to pay down your mortgage ahead of schedule can also be just as equally enticing.
1. Hedging inflation.
If you have a fixed rate mortgage, then your principal and interest payments will be the same for the next 15 or 30 years (depending on whatever kind of mortgage you took out).
While that may not sound very special, it actually has a very unique benefit to you in terms of inflation protection.
Consider this: As time goes on, all your other monthly payments will go up like your food, gas, utilities, car payments, insurance costs, etc, will go up.
But not your mortgage. Your mortgage is frozen in time. And relative to everything else you're buying, that payment will actually "feel" like less the longer time carries on.
For example, let's say you're paying $800 today for principal and interest. For as long as you have the loan and do not refinance, you'll always pay $800 every month. So if inflation increases by an average of 3% every year, that $800 will "feel" like the following over time:
Your future self might appreciate this!
2. Find a Better Rate of Return
Above we said that making a mortgage payment is basically the same thing as getting an investment with the same return rate. So let's suppose that you refinanced your mortgage within the last year and got a fixed rate at 4.0%. If the average annualized return of the stock market (such as the S&P 500 index) is 8.0%, then that's a difference of 8.0% – 4.0% = 4.0%. If you're investing for the long haul, then rather than paying off your mortgage early, why not go for the market average and shoot for an 8% return instead of a 4% one?
3. Inability to tap into the funds due to loss of equity
What if we have another Great Recession like we had in 2008 and house values don't go back to where they once were? What if they drop even further?
While debt is debt and you'll have to pay off your mortgage no matter what your house value is, it may not strategically make sense to "park" your money in your house by paying your mortgage off early.
Consider if you made extra payments towards your house and you suddenly had to move for some reason. What if your house unfortunately sold for less than what you still owe on it? You'd never recover all that money you paid into your mortgage, and so you'd be out. According to this story from ABC News, this is unfortunately exactly the kind of thing that happened to one couple when they decided to use their 401k retirement funds to pay off their mortgage rather than waiting.
A better place may be to temporarily park your extra cash in an emergency fund or someplace where you can have access to it in case something came up.
4. Low interest rates.
When I refinanced my house a few years ago, I thought I'd never see interest rates that low ever again. Imagine my surprise when rates continued to fluctuate and banks were offering 15 year loans as low as 2.75%. Could you imagine a mortgage with a rate as low as 2.75%? That's less than the average 3% inflation rate.
If you were lucky enough to lock into one of these ultra low rates, then you're basically paying a historical low of almost next to nothing for your mortgage.
5. Fewer income tax return breaks.
You may not realize it, but your mortgage interest is deductible against your U.S. income taxes. Most other forms of debt (like a credit card or car payment) are not. While there is always a Standard Deduction, in some situations it may work out better for your tax situation to have more interest to declare.
Unfortunately this point can be somewhat weak in the pay off your mortgage early debate. Suppose you own a median priced house with around 20% equity in the house. In that instance the IRS Standard Deduction would automatically exceed whatever tax benefit you'd receive from itemizing.
6.Taking Care of Other financial goals.
Foregoing putting money into your 401k?
Not stuffing your emergency fund with the cash it needs?
Do you have high interest debt you should be paying off instead?
Maybe relative to these things paying off your house early just isn't a huge priority.
Perhaps you'd rather dream big by starting a business, buying real estate, or fund other investment goals instead.
What is the Right Answer?
So after all of that, you're probably wondering to yourself which of these directions is the right one to go in.
The short answer – it depends entirely on you.
Only you know your own financial well being. Perhaps some of the points we made here carry more weight to you than others.  Regardless, there is never really a good one-size-fits-all answer to these kinds of situations. All you can do is look at the possibilities and decide for yourself which ones fit your position the best.
Readers – What do you think? Have you ever given much thought to the question of should I pay off my mortgage early? Did you end up doing it? Or did you find other reasons why you should do something else with the money?
Photo credits: Unsplash, Pexels, Pixabay