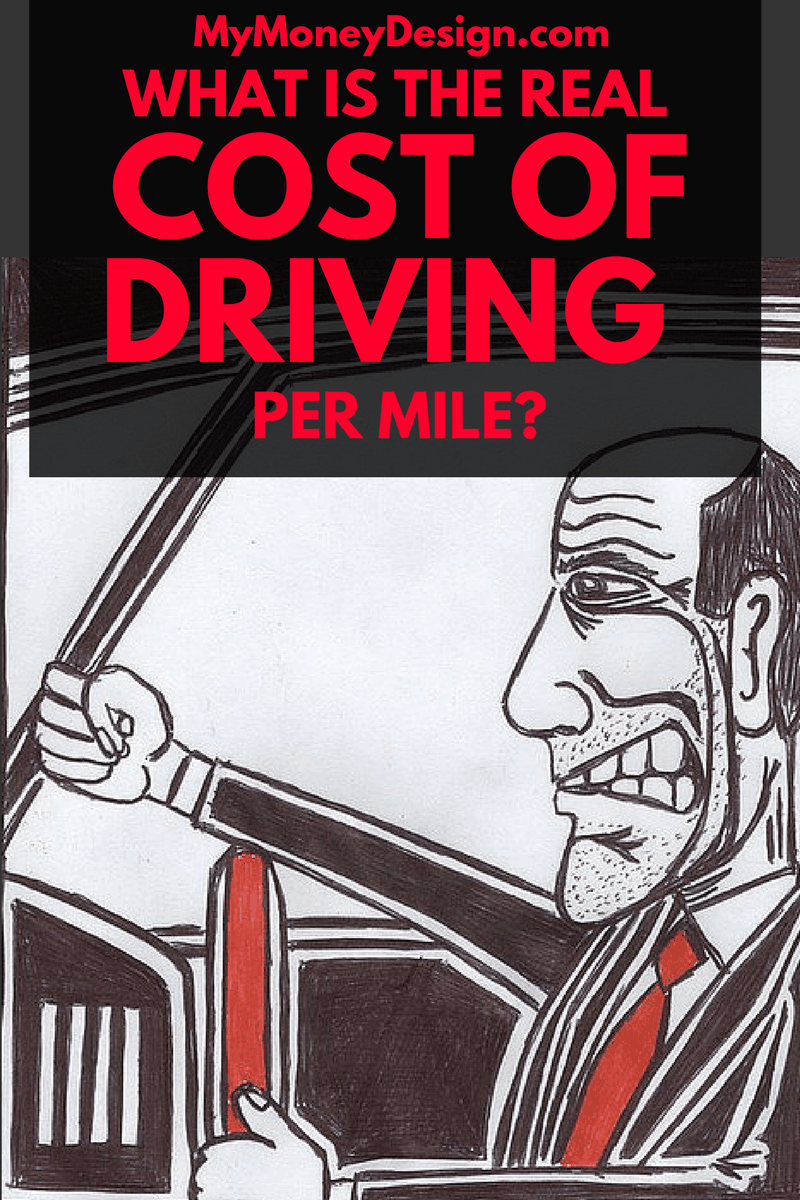 Talk to any of your friends at work or family members at a gathering, and someone is always sure to bring up "the price of gas" and how it is eating away at their monthly budget.
Their complaints are totally justified!  According to The Nest, transportation expenses count as the second biggest expense in U.S. households, running as much as 10 to 20% of the household income.
Man, don't I know the feeling! 
Car expenses have been a huge drain on our household for a long time.  For well over a decade, I've commuted an exceptionally long distance to work every weekday: 60 miles each way, 120 miles round trip!
Start adding up those numbers over the weeks, months, and years, and it's no wonder I've easily gone through 3 different "work" cars over the years.
So here's something to throw into the discussion the next time it comes up: Is the price of gas really all there is to this burden?  Or are there more factors that contribute to the real cost of driving per mile that you may not have considered?
Don't forget: To keep your car running like a champ, there's a lot more to it.  You've also got to pay for oil changes, new tires, fluid changes, un-expected repairs, and – worst of all – depreciation of the car itself.
So let's indulge in this fun little exercise and see if we can really figure out what the average cost per mile for my commute to work really is costing me each day.
How to Figure Out the Real Cost of Driving:
In order to get a sense of the actual car cost per mile, we'll consider my current car, a used 2011 Chrysler 200, and examine these main categories:
Gas / Fuel:
Gas is always the first thing people think of when they think about auto expenses.
Why?  Because it's so in-your-face all the time!   It's something we spend money on day after day, week after week after week.
Looking up the stats for my vehicle, it looks like my car gets 31 miles per gallon for the highway (the vast majority of my travel to work every day).
At a price of approximately $3 per gallon, that works out to:
$3 per gallon / 31 MPG = $0.10 per mile
Oil Changes:
Oil changes can be another big expense for your car – especially if you do them the right way and follow your vehicle's recommended maintenance schedule.
I know there are a lot of people out there who don't get oil changes as often as they should.  That doesn't fly in the MMD household.  Because of my long commutes, I take the suggested schedule for auto maintenance very, very seriously!  The last thing I want is to be broke down on the side of the expressway in the dead of winter because I was too cheap or lazy to get my oil changed when I was supposed to!
My car rocks an oil change schedule of every 8,000 miles (not 3,000 miles like those rip-off lube and scoot oil change places would have you believe).  The price per change is around $40 each time, so my cost is:
$40 per change / 8,000 miles = $0.01 per mile
New Tires:
Tires aren't something you buy often, but – oh, man – when you do, they really can cost you a lot!  On my wife's SUV, a set of new tires costs us $1,200!  Ridiculous!
Like my rant about auto maintenance, I also take my tire selection very seriously as well.  With the cold, icy Michigan winters, it's a very wise choice to invest in a nice set of tires that will handle excellent in the snow.
New tires for my car cost around $600 and are rated for about 60,000 miles (roughly every 2 years with how much I drive).  So the average cost of driving per mile is:
$600 / $600 = $0.01 per mile
Thankfully the tire store I buy my tires from does free tire rotations for life.  So there is no residual cost or charge there.
Other Maintenance and Unexpected Repairs:
This one gets a little hairy.
Ideally when you buy your car (either new or used), you shouldn't really have too many bumps and bruises within the first 100,000 miles.  But once you get up there into that +100,000 range, two things start to happen:
You start to need more maintenance such as transmission fluid exchanges, spark plugs, tune-up's, etc.
Unexpected repairs start to happen more frequently. These would be things such as engine troubles, brake pad changes, suspension problems, etc.
Looking back at my last commuter vehicle, we spent roughly $2,000 per year over the life of that car.  At an average rate of 30,000 miles per year, that works out to:
$2,000 / 30,000 miles = $0.07 mile
Depreciation:
Next to the cost of gas, if you really want to think about how much driving is really costing you, you need to factor in depreciation because it's a lot more than you think.
To put it simply, depreciation is how much you paid for the car over the life of its use.  It's the "net" amount; how much you paid versus how much you sold it or traded it in for after you were done with it.
If you financed your car, don't forget to factor in the amount of interest you paid the bank.
My latest car cost a total of $12,620 in principal and interest.  I expect that when I go to trade my car in, it will probably fetch around $2,000.
As far as mileage, I expect it to last approximately 150,000 miles, and I bought it used for around 20,000 miles.
Therefore:
($12,620 – $2,000) / (150,000 – 20,000) = $0.08 per mile
Note that the way we calculated this is called a "straight-line depreciation".  Real car depreciation is actually more of an exponential decline with the greatest decline in value happening within the first 2-3 years of a car's life.  After that the decline starts to become more gradual.   To get a better idea, check out this infographic on Edmunds.  This concept is one of the main reasons why I prefer to buy used cars over new ones.
So What is the Real Car Cost Per Mile of Driving?
Adding up everything we've talked about so far:
Gas / Fuel: $0.10
+ Oil Changes: $0.01
+ Tires: $0.01
+ Unexpected Repairs: $0.07
+ Depreciation: $0.08
= The true cost of driving per mile = $0.26
Now that might not sound like a lot to some people, but it sums up very quickly when you consider how much someone who commutes (like me) drives.
For example, since I commute a total of 120 miles per day, 5 days a week, that's:
$31.22 per day
$156.08 per week
$676.34 per month
$8,116 per year!
$33,817 for the life of the car!!
WOW!  That really puts a new perspective on the true cost to own that $12,000 commuter car.
What Can You Do?
Let's face it – your car is a costly tool that gets you from one place to another.  And in order to make it work, you need to pay to play.
But there are some things you can do to keep those automotive costs down.  Here are some of my personal tips:
Buy used. Remember how we said that depreciation happens the greatest within the first 2-3 years of a car's life?  You can bypass this by buying a used car that is roughly 2-3 years old and still has very low miles.
Buy reasonable.  Do you really need a vehicle that starts at a price tag of $60,000?  Even though it may be a better brand or higher quality, ultimately the value of the machine always goes one place – DOWN!  To minimize the force of depreciation, buy vehicles that are a good compromise of quality and affordability.
Get your car serviced regularly. If the owner's manual says to change the oil every 8,000 miles or air filter every 32,000 miles, you better believe that you should do it!  Yes, it will cost you some money, but its far, far cheaper than paying for the engine or transmission troubles that could develop as a result of negligence.
Rotate your tires religiously. Tires will wear unevenly if you don't get them rotated every 8,000 miles (or whatever your owner's manual suggests).  Not only does this increase how quickly you'll need new tires, but it can also cause unnecessary wear and tear on your suspension and other linkages.
Don't Wait! If you start to hear a weird noise or clunk, don't wait around.  Usually that's an early sign that something is wrong, and you'll be able to fix for a reasonable price.  But if you wait, it could snowball into a much larger, and more severe problem.
Readers – How much does your car cost you per month?  What other factors should we consider when keeping our overall car costs down?
Images courtesy of Katy | Flickr, Mike Kline | Flickr, John Greenfield | Flickr, Mike Mozart | Flickr, Amara U | Flickr