This post was a great suggestion from Alexa over at Single Moms Income.  If you have a topic you'd like me to write about on My Money Design, please feel free to comment or send me an email.   
Read any article about money and what will it tell you?  Start an IRA!  You know the benefits.  You know it's good for your finances.  But what if you don't have a lot of money to put in one?  Where can you find the best IRA provider without having to open an account with thousands of dollars?
Never fear!  You've got options.  In this age of online accounts and competition, more and more IRA providers are willing to accept less money to get started.  This just translates into more opportunities and options for you to choose from.
In this post, we'll cover a spread of those options ranging from safe to riskier investments.  You be the judge of your comfort level and pick the one that's right for you!
IRA Basics:
First things first, if you're going to start an IRA, make sure you know what you're yourself into.  An IRA is a savings vehicle for retirement.  It is not an emergency fund.  If you take your money out early, you will have to pay a penalty.  So please be sure you only invest what you can afford to set aside.
Should you choose a Roth over a Traditional one?  You can be the judge and read all about the differences in my post here.  Really the only qualification you need to meet in order to get started with an IRA is that you need to have some type of earned income from a taxable employer.  Your ability to contribute or deduct it from your taxes will also depend upon fitting within some upper and lower income requirements.
Once you've decided that an IRA is the way to go, the next question to ask yourself is what is my risk tolerance?  With all investments, there is always a risk / reward trade-off:
You can invest safe and get a low guaranteed return
You can invest riskier and potentially get a higher return, but you might also lose a lot of money as well
Thankfully the privilege of investing in low minimum IRA's spans across many levels of providers.  Here are four possible places you can use to get started without a lot of money up-front:
The Best IRA Provider Options with Low Minimums:
Ally: 
The online bank Ally is probably the easiest places in the world to open an IRA.  That's because:
It can all be done online in just a few minutes
There are no minimums or fees
They only give you one investment option: A CD (certificate of deposit)
Remember that your IRA doesn't necessarily have to be some complicated mash of stocks and mutual funds.  It can also be something as simple as a CD.  For those of you who are unfamiliar with how a CD works, basically your money goes into an account where it gets locked away for a certain term (6 months, 12 months, 24 months, whatever amount of time you choose).  At the end of that term, you're paid interest that is at a rate typically above what you'd get from a normal savings account.
Because your CD is designated as an IRA, this means that the interest you grow would be tax free.
CD's are about as straightforward and safe as the money in your pocket.   Not only is Ally a strong and reputable company, your investment is also FDIC insured.  So there's relatively no risk.
But that safety is also the bad news: Because they are so squeaky clean, you won't make as much money as you could potentially make with stocks.  Not that long ago, CD's were a lot more attractive because they paid anywhere from 4 to 8% – for literally just sitting around doing nothing!  However, now the rates are more like 1 to 2%.
As a long time user, I can tell you that Ally has one of the easiest sites to navigate through.  All you need to do is just click on the IRA tab on the homepage to get started.  Plus if you get stuck, they also have pretty great customer service where you can talk to a real person very quickly.
Vanguard:
Suppose you tell me that CD's sound boring and you're feeling a little friskier with your money.  If so, you could take on a little more risk and invest in mutual funds.
Mutual funds are great because they are a convenient means to buy a whole lot of stocks, bonds, whatever, etc without a lot of hassle.  If you already have a 401k or some employer sponsored plan, then chances are you already own some mutual funds.
The problem is that unlike a CD where the return is guaranteed, a mutual fund is not.  Inherently all stocks and bonds carry some sort of risk, so it is possible to lose money.  But at the same time, there is also a higher likelihood that you will make more money over time.  And because you're going to buy a mutual fund that is designated as an IRA, the returns you make from it will grow tax free.
So where can you find a mutual fund for really cheap?  I've made no secret that Vanguard is my place to go for mutual funds.  They are simple, low cost, and do just as well as any of the other mutual funds out there.
Most Vanguard funds require $2,500 or more to get started, even if it's just to get an IRA going.  But there is one little-known fund that only requires a measly $1,000 to start with:
This little-engine-that-could has been a staple in my portfolio for some time.  Not only does it make a great starter fund (especially for an IRA), but it's also a great option for other savings efforts.  I started using it to fund my children's savings accounts.
The Star Fund is a mutual fund that contains a mixture of other top mutual funds.  It seeks to produce that perfect 60/40 stock-to-bond ratio that most conventional financial wisdom preaches we should have.  It also has a low 0.34% annual expense ratio (that's $3.40 for every $1,000 invested).
Although it's not the sexiest mutual fund out there, you should still check out the returns on the Star Fund:
As a long time user of Vanguard, and can tell you that their website is very clear and easy to use.  All you need to do is open an account, select the Star Fund or whatever mutual fund you want to buy, designate it as an IRA, and then transfer over the money from your checking account.  They also have a customer service line to help you if you run into trouble anywhere along the way.
Share Builder:
Suppose you're ready to jump into the deep end of the pool and take some risks.  You want stocks!  And you can use those stocks to start an IRA.  That's one of the great things about an IRA – it can be pretty much any investment you want it to be.  And whatever returns you make are tax free.
Stocks are considered risky, but they don't have to be.  You can use your head and invest in tried and true companies.  As you can read about in my strategy for what stocks to buy this year, I'm going to go after only strong dividend paying value companies this year.  Not only do they stand the best chance of holding their own during the tough times, but they'll also pay me a 3 to 4% dividend yield throughout the year.  Sounds good to me!
If this sounds like something you'd like to try, use ShareBuilder to open an account.  They have no minimums to open an IRA and no fees to maintain it.  You just have to pay a commission (about $7) for each trade.
Betterment: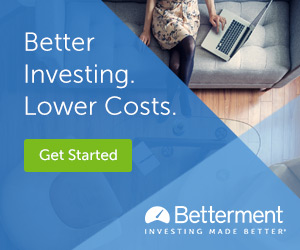 Forget about trying to figure out your own investments.  Why not let someone else do it for you?
That's precisely the principle behind Betterment.  You tell them how you feel about risk, and they tailor your portfolio around it.  Pretty simple.
What will you actually own?  A variety of stock and bond ETF's (exchange trade funds).  These are investments that are similar to mutual funds but trade like stocks.
The good news is that this is that this is a pretty simple strategy: You just fund the account and let someone else do the rest.  And depending on the risk profile you give, you could potentially make some pretty good returns over the long haul.
The other good thing is that Betterment has some pretty cheap requirements to get started.  You can actually open an account with $0 and simply invest $100 each month (for a minimum of $1,200 per year).  The fee is 0.35% per year (or $3.50 for every $1,000).  If that doesn't work for you, you can opt instead to pay a fee of $3 per month and 0.25% annual fees.
The bad news is that just like the other stock and bond investments, there is no guarantee as to what your return will be.
If you're not sure about Betterment, take a visit to their website and look around.  It's simple – just like the service they offer.  You can read their FAQ and see exactly what ETF's you'll own, how your fees will change as you build up more money, and anything else you want to know about.  Give it a look and decide for yourself.
Conclusion:
In short, you can see that you've got a lot of options for starting an IRA.  You can invest safe.  You can invest risky.  You can let someone else do it for you.  The choice is yours.  But no matter what you decide, the important thing is to do something and get started!
Readers – Who do you feel is the best IRA provider for low cost entry?
And of course the Disclaimer: These are just my suggestions, and I am not a financial advisor   I make no guarantees about the performance of any of these options.  Invest at your own risk.     
Image courtesy of Stuart Miles / FreeDigitalPhotos.net