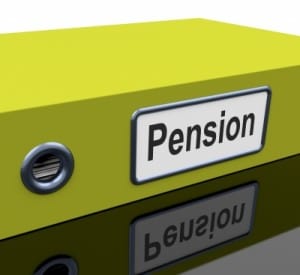 Every now and again when I read through the headlines on my favorite money news sites, I see the same desperate-for-attention headlines proclaiming that "retirement is dead" and that we basically have no hope of ever saving enough money.  How do they draw those conclusions?  The usual suspects cited are the decline of pensions, the deflating of Social Security and the rise in costs as reasons why none of us can save and why we'll all need to work until we are 80.
And then there is my personal favorite: The 401k.  They talk about the 401k like it's a James Bond villain.  When they compare the pension vs 401k, they describe it as a horrible and inefficient means for retirement.  Basically, their message is that the 401k killed retirement.
That is complete nonsense.  The 401k didn't destroy our chances at the American Dream … we did.
Our Problem of Dependency:
When we had a defined pension plan, you had someone forcing you to save and prepare for retirement.  Saving for retirement wasn't a choice, it was mandatory.
Now that pensions are nearly extinct, we're on our own when it comes to saving our money and we're having a hard time dealing with it.  And how is that going?  The personal savings rate in America is somewhere around 3%.  For anyone saving that much (of less), I ask the cold hard question: What do you expect to do with that?  Is that really going to accomplish your retirement goal?
We did ourselves a great disservice by getting too dependent on others to handle our finances for us.  Our society had a great run when all you needed to do was work at a job for 30 years and you had money for life.  But how long was that model really going to be sustainable?
The transition from "someone doing it for you" to "you handling it yourself" is a lot like when you first moved away to college or into your first apartment.  You no longer had your mom around to clean up after you and cook your food.  But within a few months you got with the program and adapted.
Yet, for some reason, that same transition from a pension to a 401k has been in the works for over 30 years and we're still not ready to accept it yet.  We're still kicking and screaming as we get dragged through the door of change.  And unfortunately, change is inevitable.  The dinosaurs came and went.  World economies rise and fall.  The floppy disk has seen better days.
You don't need me to tell you how to eat better.  Or to get to work on time.  Or to do the right thing.  Why do we need someone to tell us (or force us) to save for retirement?
The Pension vs 401k:
I'm not against pensions.  But I don't think the 401k is such a bad guy either.  He was just the next candidate in office waiting to take over when the pension was being phased out.
But the savvy among you will recognize that in many ways a 401k can have some superior benefits over the pension.  Like any tool, you just have to know how to use it correctly if you want the maximum benefit from it.
Here is how a 401k can be better than an old fashioned pension plan:
I decide how much I want to contribute.  I can contribute as much as I want to.  And I purposely hit the maximum every year so that I can 1) retire early and 2) adjust my lifestyle to something more modest than my income level (hence needing less to retire)
I pick how I want to invest.  I pick the funds based on aggressiveness, expenses, asset allocation, etc.  I get to decide what my perfect personal asset mix is and how I want my money to go into it.  I can make it as wild or conservative as I see fit. 
My employer contributes.  I know exactly how much money my employer contributes to my 401k, and it is very generous.  As with a pension, there is no ambiguous participation or pool of money where I have no idea how much the employer is actually kicking in.
I can change jobs if I want to.  There's no worry about not ever having enough years to get a pension or anything like that.  My 401k is mine and it will belong to me where ever I go.
And perhaps the biggest fault I point out about the old way of doing things with a pension:
What happens when it's not there?
What if you worked your whole life only to find out that the pension was mismanaged and there was NOTHING for you at the end?  This may sound like a horror story, but pension failure and negligence is something that happens more often than you probably think.
Making the Best of What You've Got:
Fundamentally, when it comes to money here on My Money Design, I always advocate that no one is looking out for your money like you do.  With that said, I ask:
If your finances are so important to us and our well-being, then why don't you take control of them?
Why do we want to continue to believe that it is so hard to handle our own money and set aside for what we know we should?
Regardless of where you weigh in on this debate, one thing is for sure: It's unlikely that things are going to go back the way they were.  Pensions will continue to die out, and the role of a 401k will continue to become commonplace in the workforce.
So going forward, the question is not "Who is to blame?"  The question is "How am I going to make the best of what choices I have available to me?"
Handling your own money is as simple as:
Don't dwell on the past.  Don't pretend like you can't do it.  Use the tools that are available to you and defy those headlines.  Make the American Dream and retirement a reality for yourself!
Readers – Where do you weigh in on the pension vs 401k debate?  Do you feel that a 401k is an adequate substitute for a pension, or a poor one?  How do you make the best of your options?
Related Posts:
Image courtesy of FreeDigitalPhotos.net