Take that list of your major expenses you created in Step 1 and list them for one month. Create one column and put your rows of expenses near the bottom half of the page.
Income
Now let's go up to the top of the column. This is where we will list your income for the month. For most of us, that will simply be your paychecks and your spouse's paychecks.
Congratulations if you have other significant forms of income. Some examples might be:
• Landlord rent
• Side business income
• Dividends
• Cash-back rewards
• Etc.
Create a row for each significant income stream.
If you have just a few small or non-reoccurring income streams, just add a category called "Misc. Income". This will be our catch-all for all the extra money you bring in.
Income Minus Expense
As you can guess, you're going to take your total income and subtract it from your total expenses. This will be called your "Monthly Net Exchange".
• Total Income – Total Expenses = Monthly Net Exchange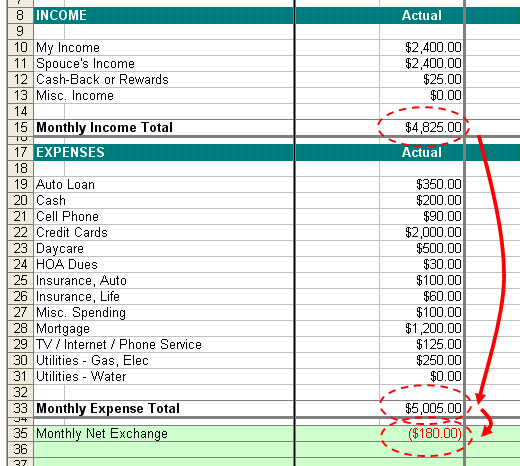 Normally with a regular budget, this is where you'd be done. But in the next section, we're going to take our budget to a whole new level.
Table of Contents:
How to Budget – Step 1 –  Where Does All My Money Go?
How to Budget – Step 2 – Income Vs Expense
How to Budget – Step 3 – Take It All The Way to 12 Months
How to Budget – Step 4 – Add In Those Special Times
How to Budget – Step 5 – Apply the Formula for Success
How to Budget – Step 6 – Adding In Your Investment Goals
How to Budget – Step 7 – Sticking to the Plan!
How to Budget – Making It Easy with Mint
How to Budget – Download My Excel Template
Photo Credit: Microsoft Clip Art